Using the latest technologies in both 3D design and production, we create the perfect fire and law enforcement vehicles for public service departments around the world.
The sub-frame
We start with the heaviest sub-frame in the fire apparatus industry, using large 2-inch wide by 1/4-inch wall tubing running the full length of the body.
Our full-length, ladder-style frame creates a strong, rigid foundation to isolate our body from the twisting and flexing of the chassis below.
Spring-loaded body mounts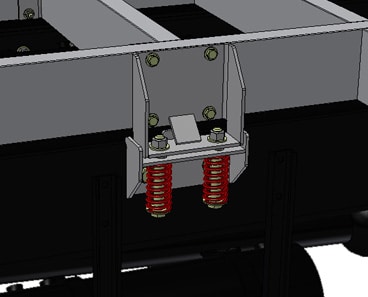 Our body mounts are 1/4-inch thick powder-coated steel assemblies that hold the chassis and body sub-frame securely together with two 3/4-inch Grade 9 bolts and heavy-duty coil springs. The spring mounting of our bodies allows for free chassis movement without transferring damaging torque and twist into the body panels.
Formed sheet metal construction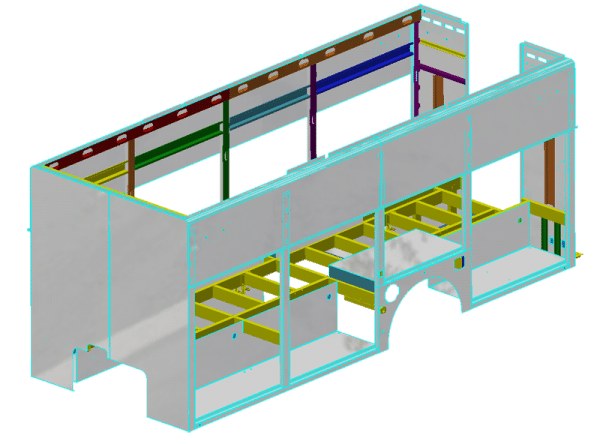 At SVI, we use formed panel construction, giving us superior strength and flexibility in our custom design. Each body we produce is computer-designed for your department using the latest in 3D modeling software, design, and testing procedures to produce the strongest and most flexible bodies in the fire industry.
Dissimilar Metals
Our truck bodies and sub-frames are isolated from the steel chassis frame using 3/8-inch thick UHMW plastic extrusions glued to the chassis frame. This style of construction allows our sub-frame to glide back and forth without damage, while keeping dissimilar metals apart. Our aluminum bodies are built entirely with high-strength, flexible aluminum alloys, while our stainless steel bodies are built using 12-gauge 304 and 316 corrosion-resistant stainless steel.
Single-walled Construction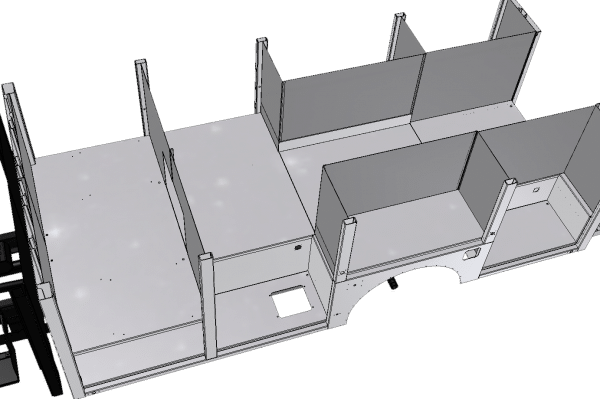 Our single-walled construction between compartments allows for maximum usable compartment space. By welding the adjustable shelf track directly to the wall, we add superior strength to the design without interfering with compartment openings.
Accident damage and repair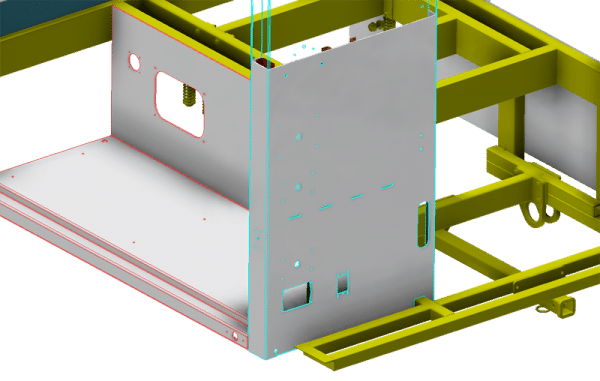 Formed construction bodies can be repaired by most heavy truck body shops without having to purchase proprietary extrusions which add extra cost and time to the repair process. In the event of an accident, formed construction doesn't transfer impact throughout the vehicle like extruded tubular construction, keeping the contents safer with less damage to repair.
Welded body construction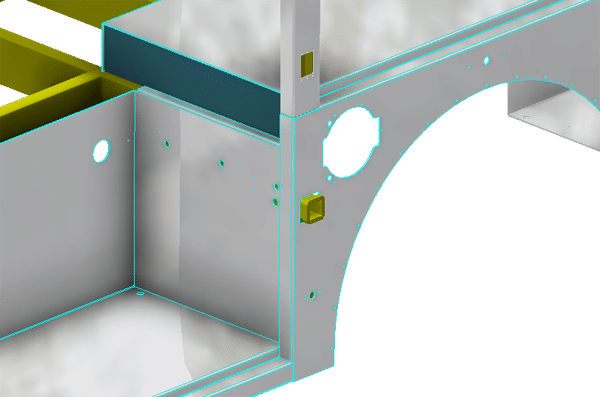 We continuously weld all our exterior body panels and stitch-weld all interior seams, giving our customers a truly metal finished body. We don't use cover trim and overlays to hide body panel seams and connections.
Protected and accessible wiring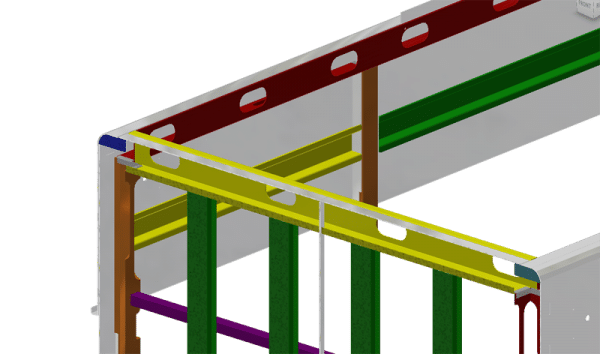 All of our electrical harnesses run through formed wire raceways built into the body's construction. The main wiring harnesses are easy to access, as they run through the upper-body raceways where wiring drops into compartments from above. No unnecessary wiring runs under the vehicle's body, exposed to the elements. All electrical components are grounded through the main electrical panel's bus and directly to the chassis. In multiplex trucks, all body-mounted nodes are located in the easy-to-access 12-volt electrical panel, not randomly mounted throughout the body in inaccessible locations.
All SVI Warranties are non-prorated. We stand behind our people and products with absolute confidence.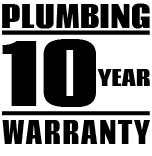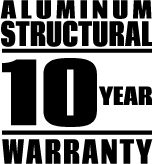 SVI Trucks builds every apparatus tough to withstand the abuse of that comes along with job. All SVI bodies are fabricated using formed construction which provides a much stronger body than flat-panel and extrusion construction.
Our Projects:
Loveland Fire Rescue Authority Rescue Pumper #1073
Amy Speer
2019-10-17T08:53:34-06:00
What Our Client's Are Saying:
…from the pre-construction meeting to delivery, working with SVI has been a pleasure. They have helped our department get what we need by listening to our unique situations and going the extra mile to develop a solid, one of a kind machine.
We made some very technical modifications that could not have been accomplished without the help of SVI's engineers, customer service and parts departments. Our truck has been in service for almost two years and we are still very pleased…
We never plan to purchase another brand of Heavy Rescue again.
Our Rescue is the pride of our fleet and envy of the surrounding departments.
Our Hazmat, built by SVI, has superior workmanship.